THE DIY WEDDING MYTH
Wednesday, July 06, 2016
I was on Pinterest recently (okay, I was on it again for the third time today) and I came across an infographic about the expense of weddings, Weddings Are Freaking Expensive. The statistics are a little dated but much of the factual information on the top of the graphic is correct like the cost of the average wedding, average number of guests and location of ceremony.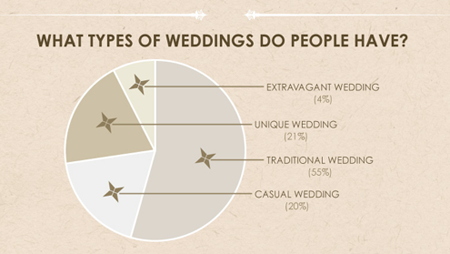 Weddings Are Expensive
Then things took a downward turn. There is a section titled, Bring Your Wedding Costs Down. This section details the cost of hiring a professional versus DIY (doing-it-yourself). Some of the information found in this area is so far from accurate I thought it was time to set the record straight. Let's take a look at 3 of the cost saving examples.
Videographer
This post suggests that you purchase a camcorder and stand to save money. While you can set up your own equipment, who will operate it? If you leave the camera stationary, anything can happen. What if it isn't focused correctly? A guest bumps into it during seating and changes what gets recorded. Plus, nowadays it isn't uncommon for guests to stand during the ceremony to get their own photos. You might end up with a recording of your Uncle Joe's back instead of your wedding vows. By hiring a professional, you guarantee that you'll get those moments you just can't capture from a tri-pod: the first kiss, the first dance and the look on the groom's face when he sees the bride for the first time. Not to mention an amazing finished product that has been edited by a professional.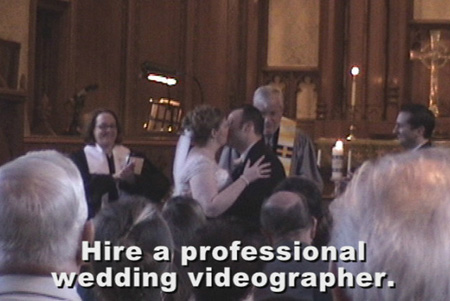 Photographer
This post suggest that guests use their own digital cameras and upload the photos to a group Facebook page. Seriously? You're going to trust your friends and family to get each and every one of those special must-have shots? Not to mention waiting and hoping that the images will be upoladed. I have a friend who still hasn't downloaded her son's first birthday photos and he graduates this year. A professional photographer will take the shots you know you want and those you never knew you couldn't live without. While there are some amazing digital cameras, the person operating the camera makes a huge difference. A professional will get the right lighting, focus and feeling. Are you sure you want to trust Uncle Joe and a disposable camera to record the most important day of your life?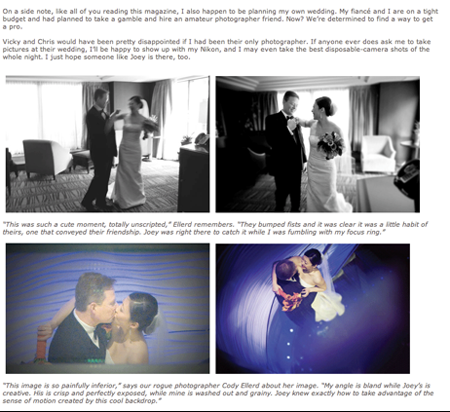 Professional vs Amateur photographer
Music
This post suggest that you use Rhapsody.com as your musical entertainment instead of a DJ. However, the post never addresses who will play the music and on what equipment. Do you have the sound equipment necessary to play an ipod and can you set it up at your venue? A professional DJ is licensed and bonded and will come with all the necessary equipment. He will introduce your wedding party with specific details about the bridesmaids and groomsmen. He will announce the big moments and direct the crowds attention to the cake cutting, father-daughter dance or honeymoon exit. Most importantly, he will read your crowd and play the music that gets the best response.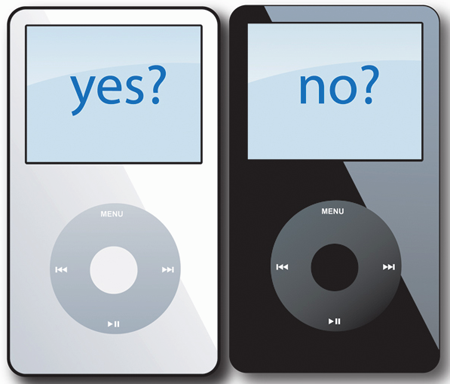 iPod vs DJ
There are ways to save money on your wedding, just make sure you think it through and pick the best options for you. Talk to the wedding professionals. These folks have been doing this for years and can give you tips and suggestions you haven't even considered. Mr. Burch has options for discounted tuxedos including getting the groom's tuxedo free. All you have to do is ask. At the end of the day, you'll be married. Let's try to make it a joyful occasion full of happy memories instead of an exhausting day of trying to do everything yourself.
Leave your comment